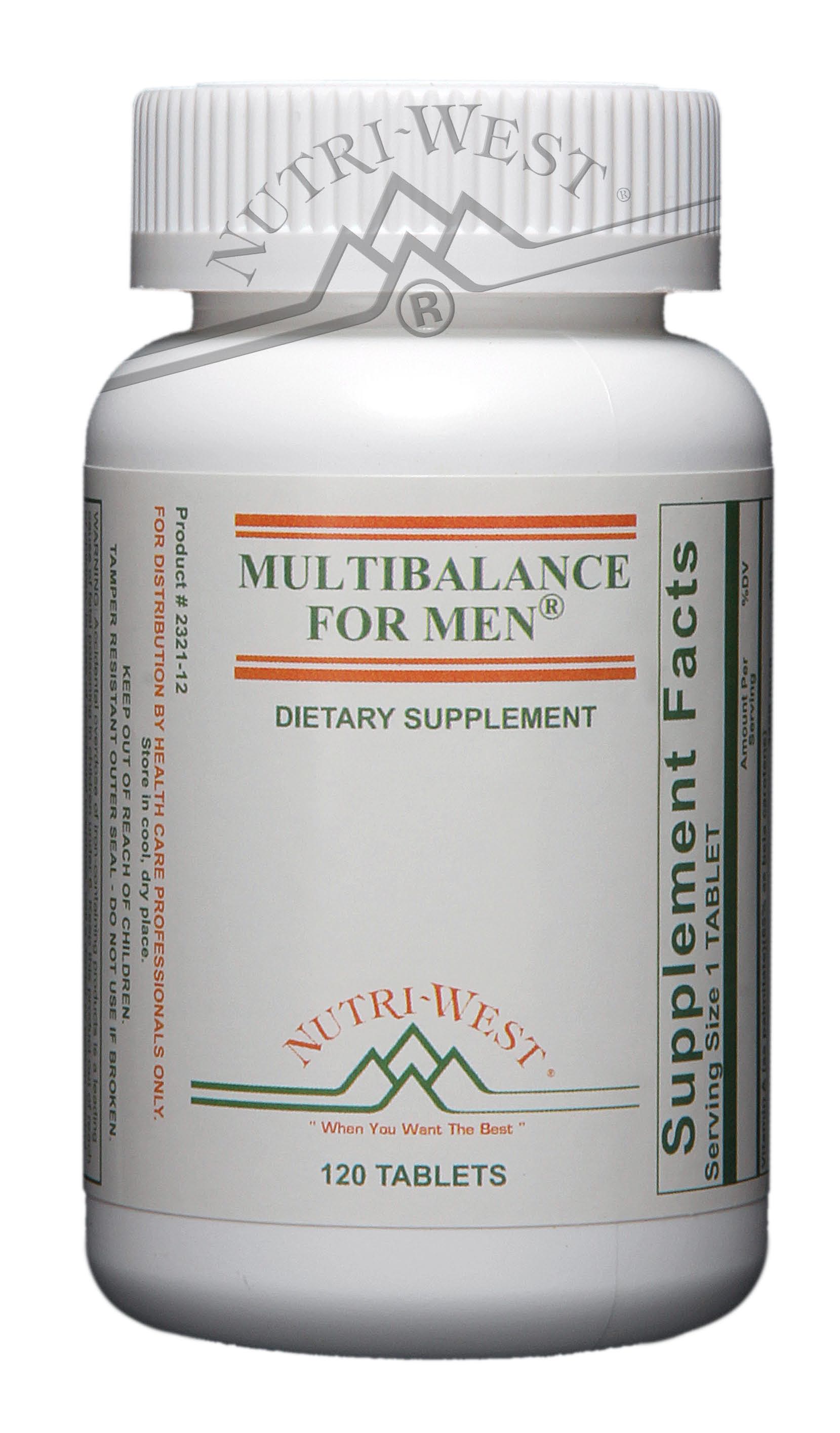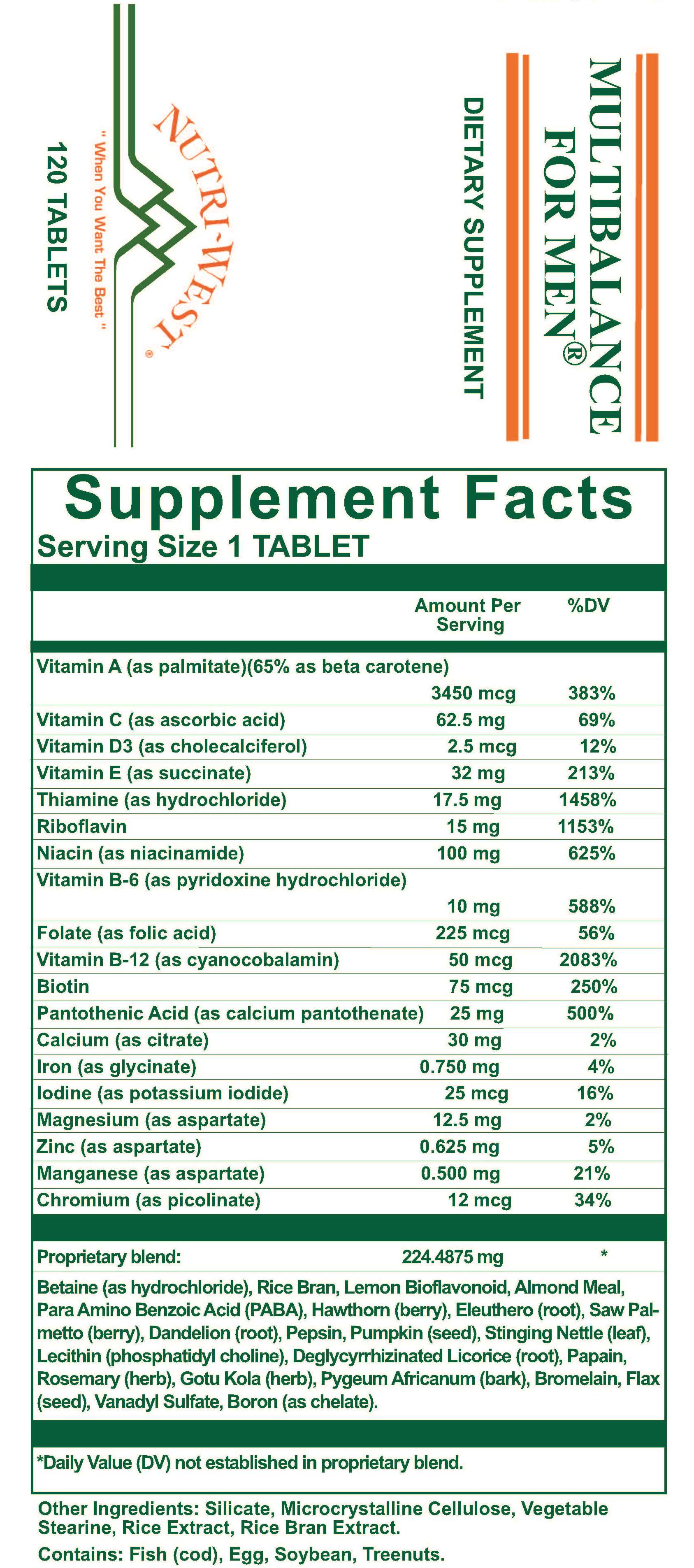 Multibalance for Men
***
Product # :

2321 ***

Company :

Nutri-West

Size :

120 tablets per bottle
Index of Common Applications Group :
Male Support; Multiple Vitamin & Mineral Support
Supportive Function :
A special formulated balanced multiple to support the needs of the male.
Ingredients :
Each Tablet Contains: Vitamin A (as palmitate) (65% as beta carotene) 3450 mcg, Vitamin C (as ascorbic acid) 62.5 mg, Vitamin D3 (as cholecalciferol) 2.5 mcg, Vitamin E (as succinate) 32 mg, Thiamine (as hydrochloride) 17.5 mg, Riboflavin 15 mg, Niacin (as niacinamide) 100 mg, Vitamin B-6 (as pyridoxine hydrochloride) 10 mg, Folate (as folic acid) 225 mcg, Vitamin B-12 (as cyanocobalamin) 50 mcg, Biotin 75 mcg, Pantothenic Acid (as calcium pantothenate) 25 mg, Calcium (as citrate) 30 mg, Iron (as glycinate) 0.750 mg, Iodine (as potassium iodide) 25 mcg, Magnesium (as aspartate) 12.5 mg, Zinc (as aspartate) 0.625 mg, Manganese (as aspartate) 0.500 mg, Chromium (as picolinate) 12 mcg. Proprietary blend 224.4875 mg* of: Betaine (as hydrochloride), Rice Bran, Lemon Bioflavonoid, Almond Meal, Para Amino Benzoic Acid (PABA), Hawthorn (berry), Eleuthero (root), Saw Palmetto (berry), Dandelion (root), Pepsin, Pumpkin (seed), Stinging Nettle (leaf), Lecithin (phosphytidal choline), Deglycyrrhizinated Licorice (root), Papain, Rosemary (herb), Gotu Kola (herb), Pygeum Africanum (bark), Bromelain, Flax (seed), Vanadyl Sulfate, Boron (as chelate).
Other Ingredients :
Silicate, Microcrystalline Cellulose, Vegetable Stearine, Rice Extract, Rice Bran Extract
Contraindications :
No known contraindications
Suggested Dosage :

1 tablet daily or as directed

Vegetarian or Vegan :

No

Gluten Free :

Yes

Allergens :

Contains Fish (cod), Egg, Soybean, Treenuts

Professional Notes :

---

Patient Instructions :

---
*** No Frees With This Product
Presented by Nutri-West as an Educational Service
Copyright Nutri-West, Inc. All rights reserved.
Made with pride in Wyoming
where business is still done on a handshake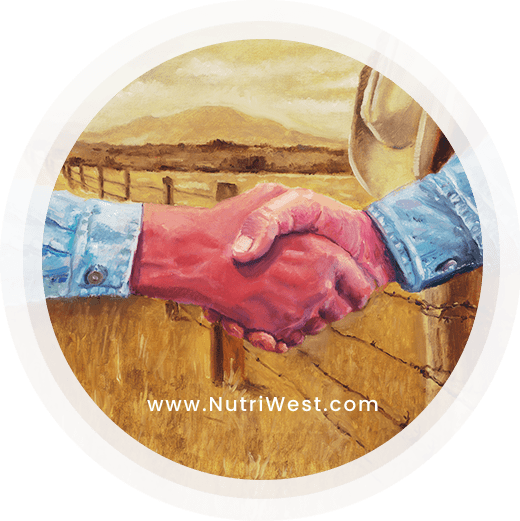 Our dedication to you, the health care provider, is absolute. You deserve our personal best in service and support