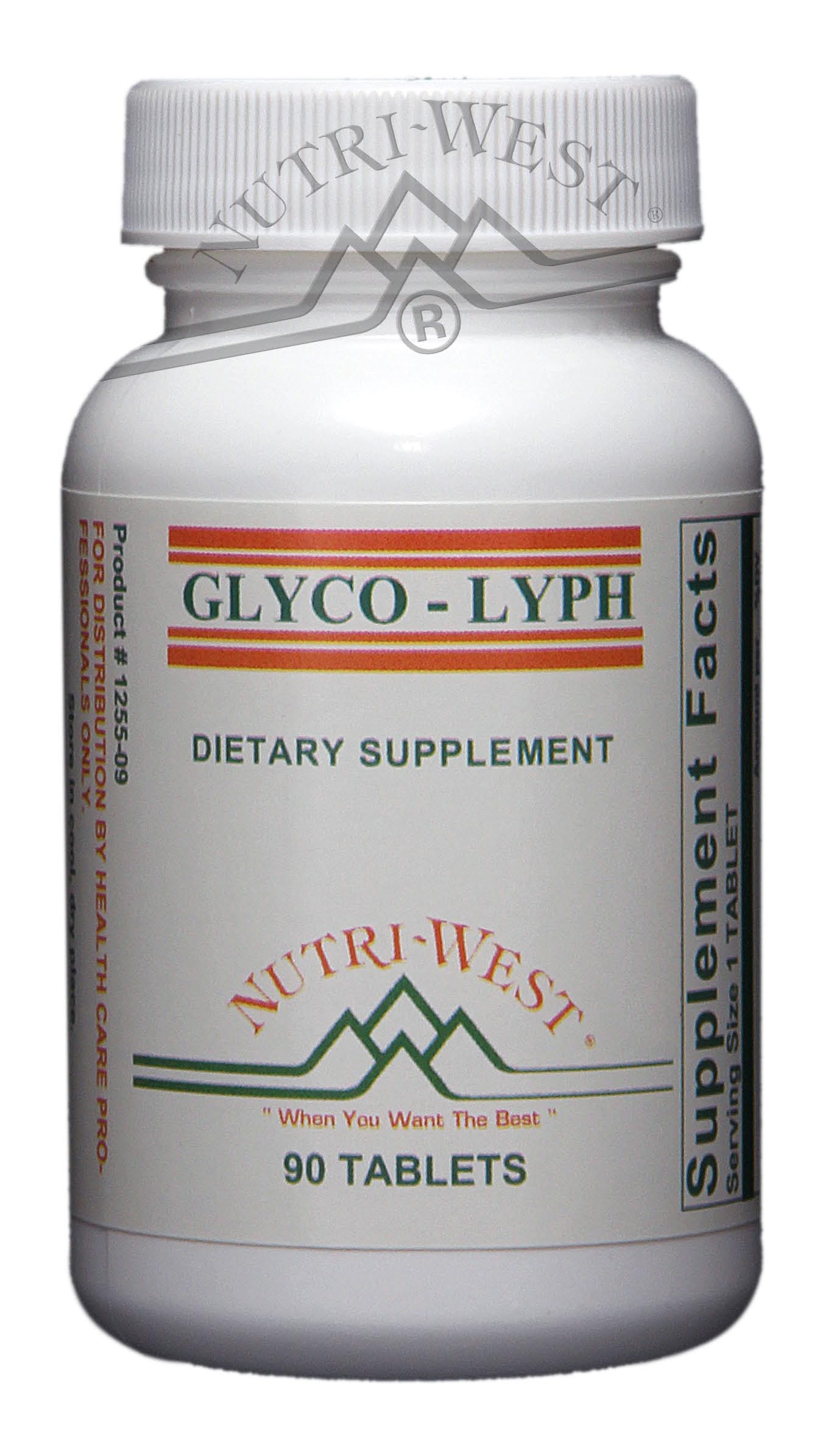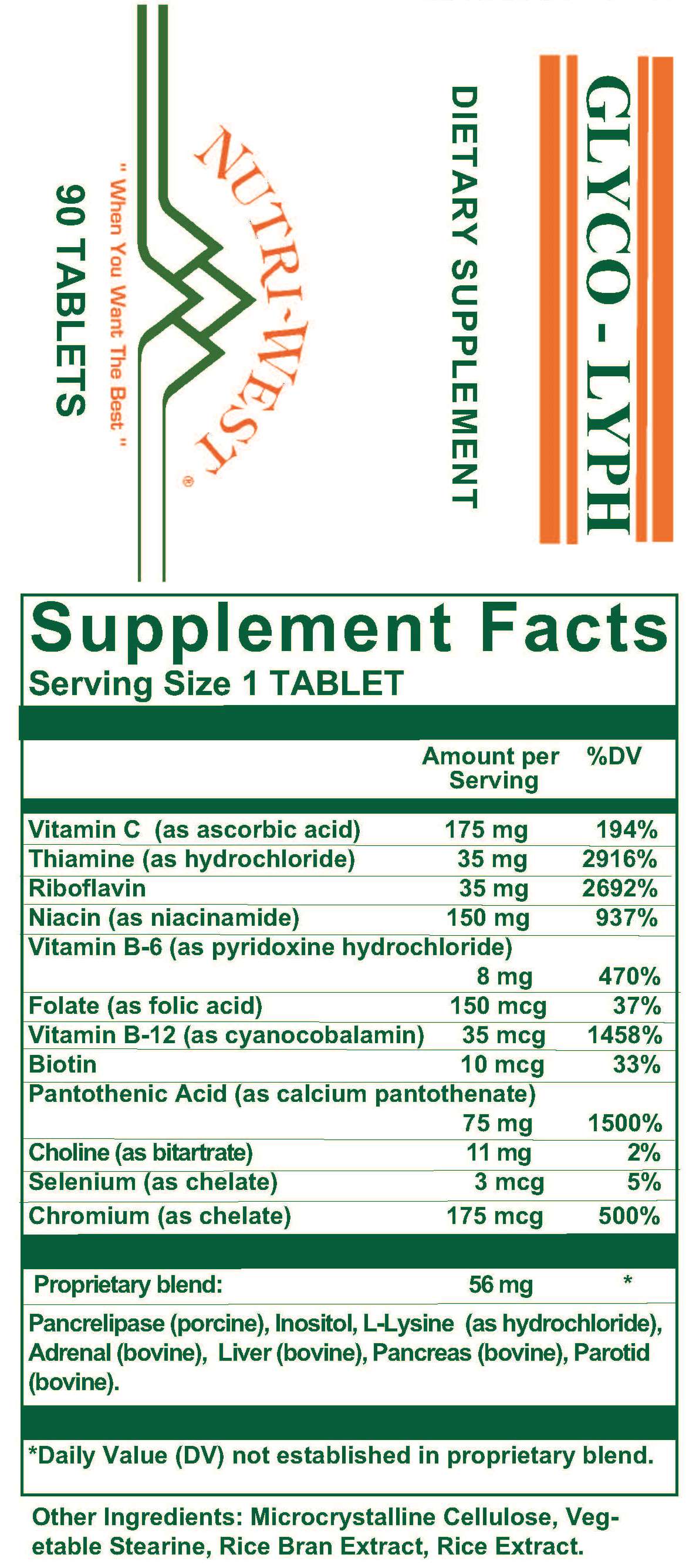 Glyco-Lyph
***
Product # :

1255 ***

Company :

Nutri-West

Size :

90 tablets per bottle
Index of Common Applications Group :
Sugar-Handling/Pancreatic Support; B Vitamin Support
Supportive Function :
Tissue Concentrate with B-Complex. Chromium has an important role in the basic function of the Glucose Tolerance Factor (GTF). GTF facilitates the transport of glucose across cell membranes, enabling the cells to use the glucose for energy (ATP) production. (ATP is the energy fuel for all biochemical reactions. It also has a role in the biosynthesis of fatty acids and cholesterol. Many vitamins and minerals are vital to the function of the GTF.) The B vitamins are all involved in the aspects of glucose metabolism, especially in the oxidative Kreb's cycle which turns glucose into the energy we use to live. Glyco-Lyph is a formula which combines adrenal, pituitary, and parotid glandular support with the synergistic vitamins (including the B complex and vitamin C), minerals and nutrients which helps maintain a healthy blood sugar level.
Ingredients :
Each Tablet Contains: Vitamin C (as ascorbic acid) 175 mg, Thiamine (as hydrochloride) 35 mg, Riboflavin 35 mg, Niacin (as niacinamide) 150 mg, Vitamin B-6 (as pyridoxine hydrochloride) 8 mg, Folate (as folic acid) 150 mcg, Vitamin B-12 (as cyanocobalamin) 35 mcg, Biotin 10 mcg, Pantothenic Acid (as calcium pantothenate) 75 mg, Selenium (as chelate) 3 mcg, Chromium (as chelate) 175 mcg. Proprietary blend 61 mg* of: Pancrelipase, Inositol, L-Lysine (as hydrochloride), Adrenal (bovine), Choline (as bitartrate), Liver (bovine), Pancreas (bovine), Parotid (bovine).
Other Ingredients :
Microcrystalline Cellulose, Vegetable Stearine, Rice Bran Extract, Rice Extract
Contraindications :
No known contraindications
Suggested Dosage :

1 tablet daily or as directed

Vegetarian or Vegan :

No

Gluten Free :

Yes

Allergens :

None

Professional Notes :

---

Patient Instructions :

---
*** No Frees With This Product
Presented by Nutri-West as an Educational Service
Copyright Nutri-West, Inc. All rights reserved.
Made with pride in Wyoming
where business is still done on a handshake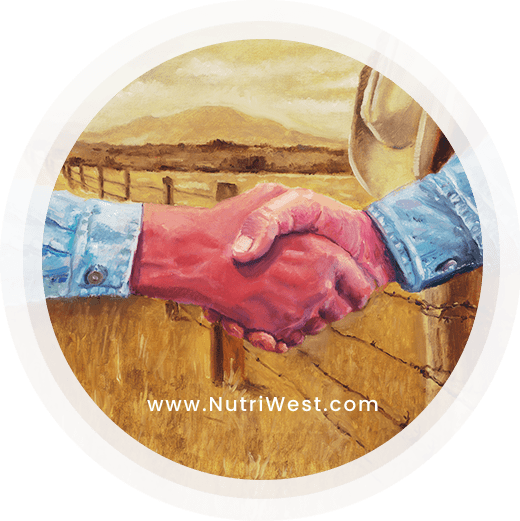 Our dedication to you, the health care provider, is absolute. You deserve our personal best in service and support