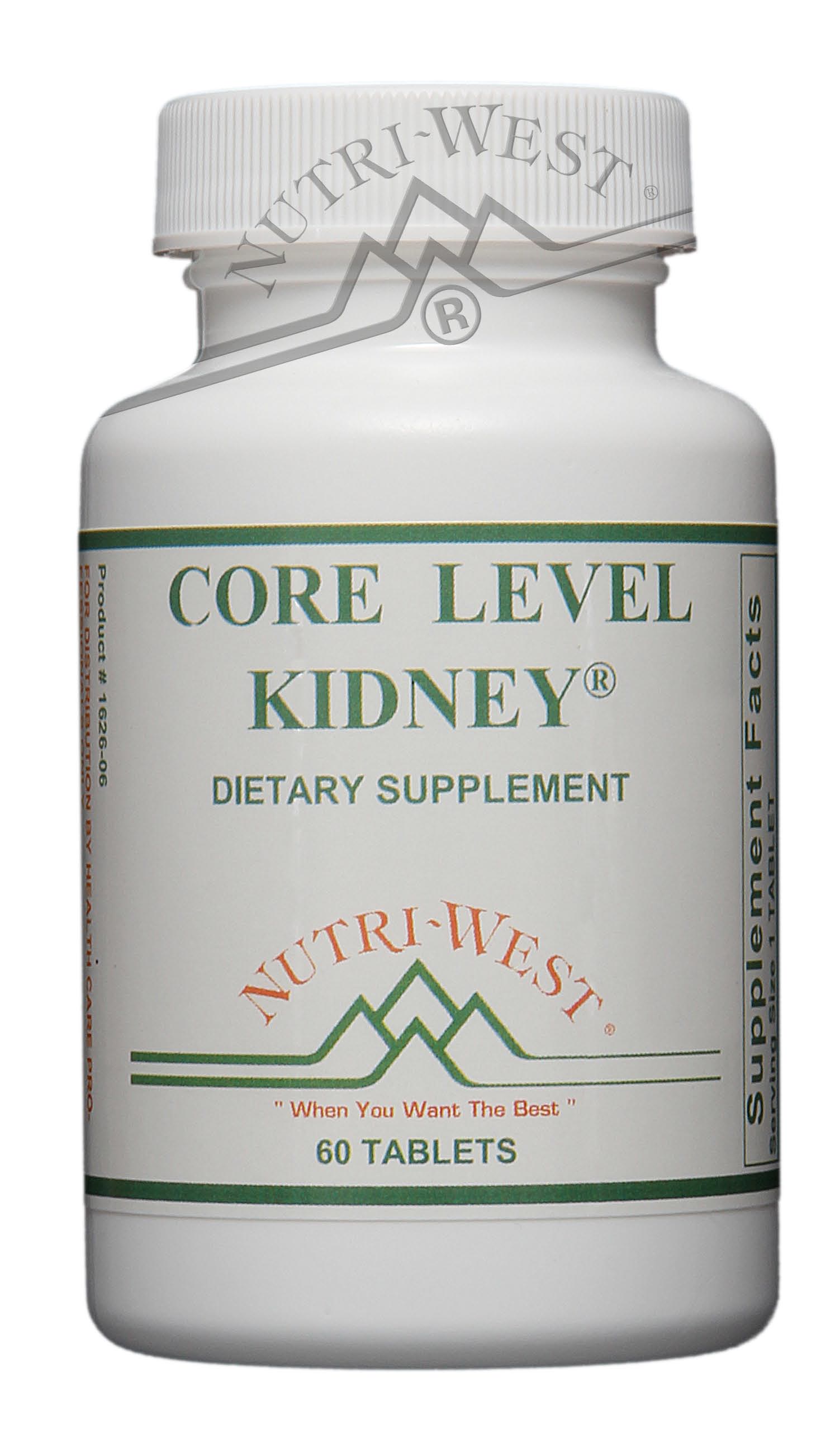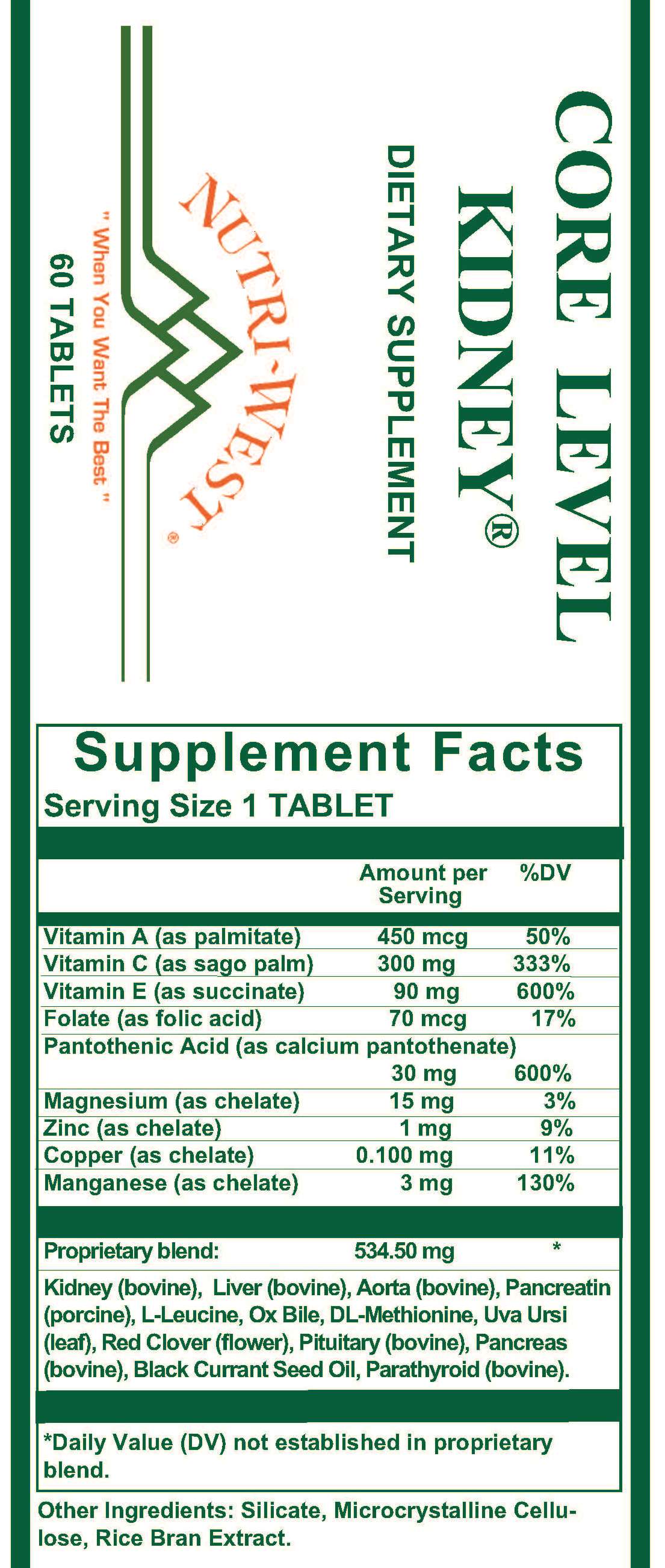 Core Level Kidney
***
Product # :

1626 ***

Company :

Nutri-West

Size :

60 tablets per bottle
Index of Common Applications Group :
Kidney Support
Supportive Function :
Synergistic nutritional support for the kidneys
Ingredients :
Each Tablet Contains: Vitamin A (as palmitate) 450 mcg, Vitamin C (as sago palm) 300 mg, Vitamin E (as succinate) 90 mg, Folate (as folic acid) 70 mcg, Pantothenic Acid (as calcium pantothenate) 30 mg, Magnesium (as chelate) 15 mg, Zinc (as chelate) 1 mg, Copper (as chelate) 0.100 mg, Manganese (as chelate) 3 mg. Proprietary blend 534.50 mg* of: Kidney (bovine), Liver (bovine), Aorta (bovine), Pancreatin (porcine), L-Leucine, Ox Bile, DL-Methionine, Uva Ursi (leaf), Red Clover (flower), Pituitary (bovine), Pancreas (bovine), Black Currant Seed Oil, Parathyroid (bovine).
Other Ingredients :
Silicate, Microcrystalline Cellulose, Rice Bran Extract
Contraindications :
High dosages of vitamin C (>1000 mg.) should not be taken by gout patients or by kidney stone formers. Vitamin C is contraindicated in iron overload disease. Vitamin E is fat-soluble, but does not involve contraindications at amounts up to 40 times the RDA (400 IU/day). Since vitamin E is an anticoagulant, amounts of vitamin E (400 IU or greater) can potentiate blood-thinning drugs such as coumadin and should not be used concurrently. Pituitary glandular is contraindicated in cancer.
Suggested Dosage :

1 tablet daily or as directed

Vegetarian or Vegan :

No

Gluten Free :

Yes

Allergens :

None

Professional Notes :

---

Patient Instructions :

---
*** No Frees With This Product
Presented by Nutri-West as an Educational Service
Copyright Nutri-West, Inc. All rights reserved.
Made with pride in Wyoming
where business is still done on a handshake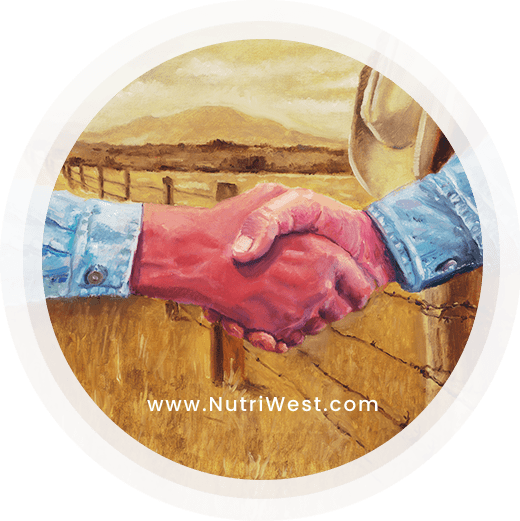 Our dedication to you, the health care provider, is absolute. You deserve our personal best in service and support