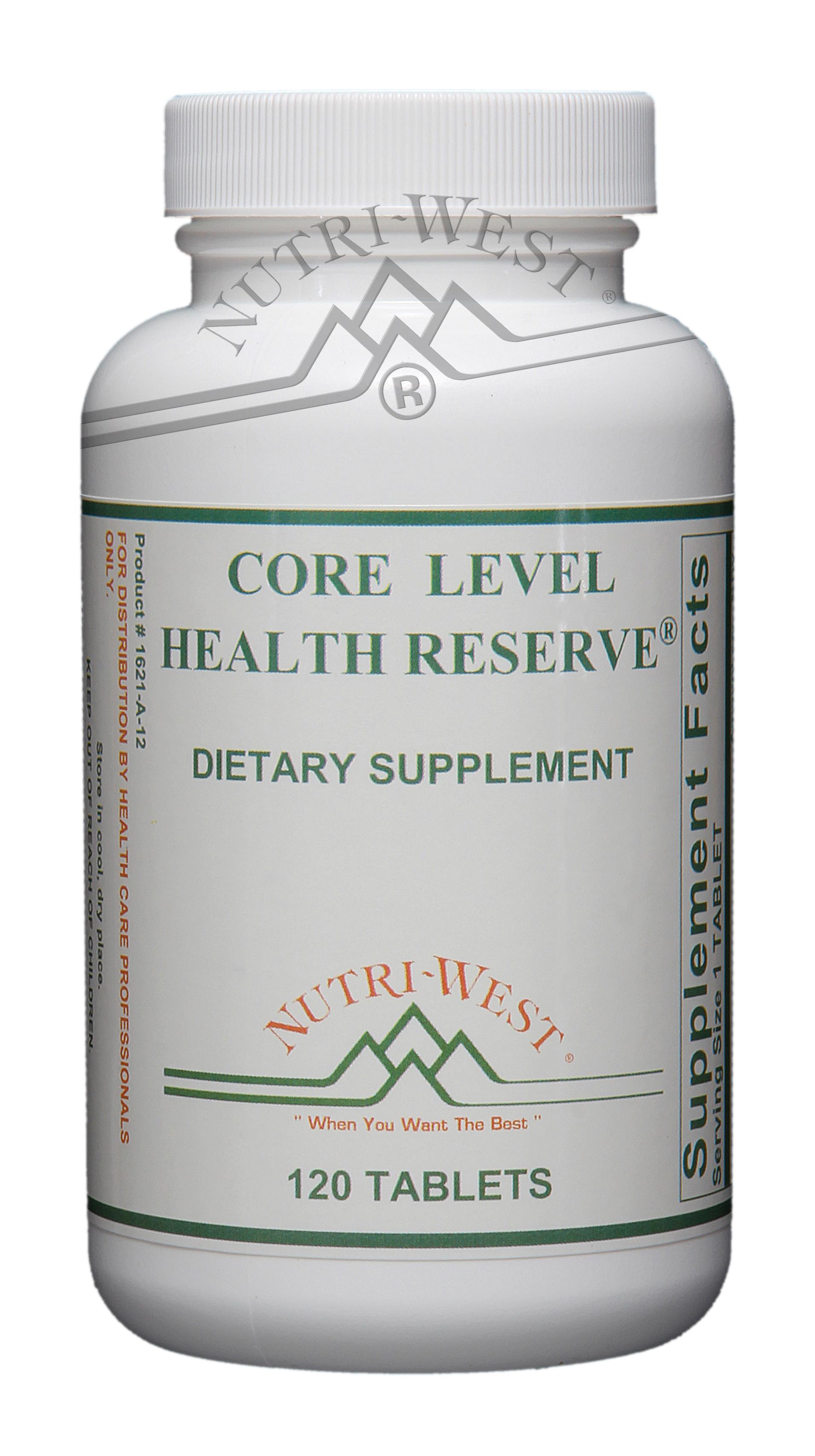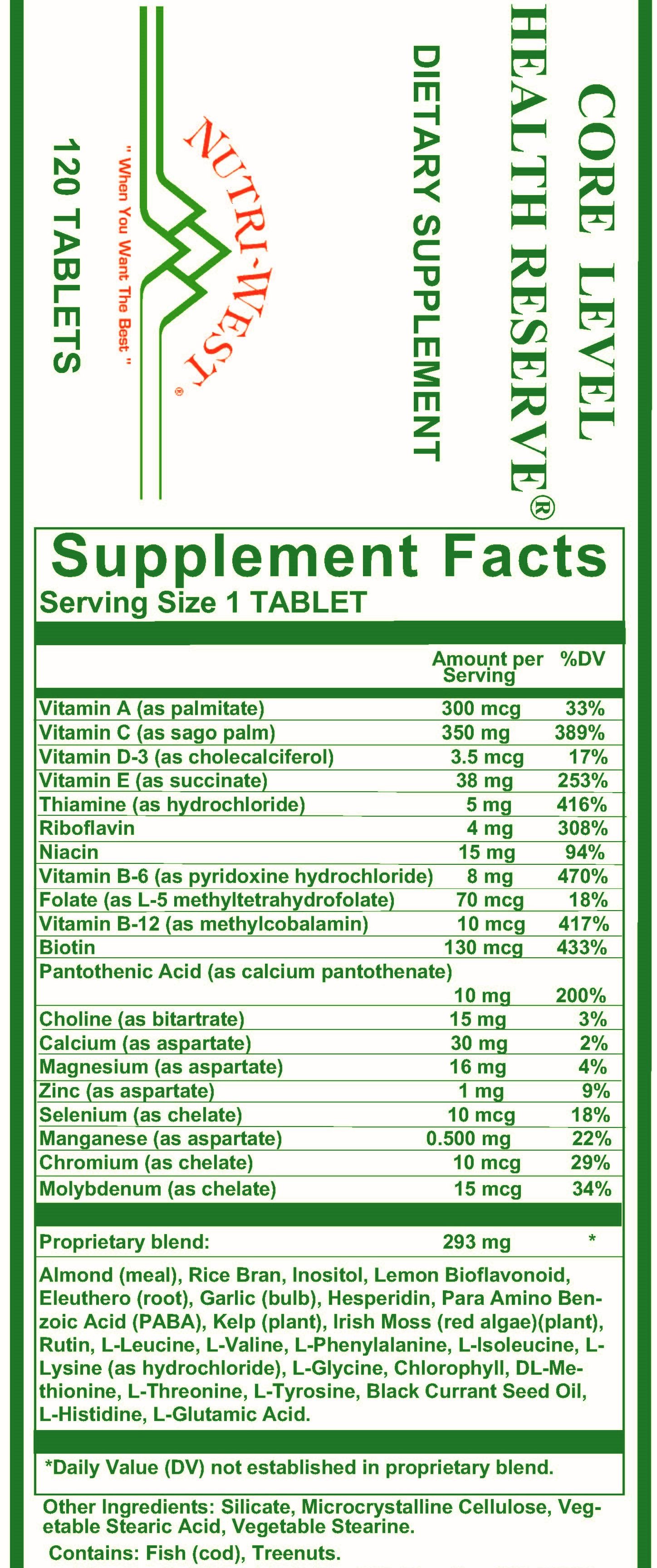 Core Level Health Reserve (120)
Product # :

1621A

Company :

Nutri-West

Size :

120 tablets per bottle
Index of Common Applications Group :
Methylation Support; Multiple Vitamin & Mineral Support
Supportive Function :
Basic Synergistic Multiple. Packed with a powerhouse of vitamins and minerals, this formula provides a true, "core level" answer to full nutritional support. This formula provides high amounts of the antioxidant nutrients, i.e. Vitamin C, Vitamin E, Vitamin A, selenium and zinc. In addition to the long list of vital nutrients, Core Level Health Reserve also contains well-known herbs such as eleuthero and garlic. Plant constituents such as the balancing chlorophyll and phytochemicals (lemon bioflavonoid, rutin, hesperidin, etc.) complement the formula. Add some high –fiber rice bran and almond meal, essential fatty acids (vitamin F), some iodine from a sea source (kelp), throw in the amino acids (glycine, tyrosine, etc.), and you have a superior recipe for ideal nutritional support. The high concentration of nutrients in Core Level Health Reserve makes it an ideal choice for anyone looking for a complete balanced multi-vitamin.
Ingredients :
Each Tablet Contains: Vitamin A (as palmitate) 300 mcg, Vitamin C (as sago palm) 350 mg, Vitamin D3 (as cholecalciferol) 3.5 mcg, Vitamin E (as succinate) 38 mg, Thiamine (as hydrochloride) 5 mg, Riboflavin 4 mg, Niacin 15 mg, Vitamin B-6 (as pyridoxine hydrochloride) 8 mg, Folate (as L-5 methyltetrahydrofolate) 70 mcg, Vitamin B-12 (as methylcobalamin) 10 mcg, Biotin 130 mcg, Pantothenic Acid (as calcium pantothenate) 10 mg, Choline (as bitartrate) 15 mg, Calcium (as aspartate) 30 mg, Magnesium (as aspartate) 16 mg, Zinc (as aspartate) 1 mg, Selenium (as chelate) 10 mcg, Manganese (as aspartate) 0.500 mg, Chromium (as chelate) 10 mcg, Molybdenum (as chelate) 15 mcg. Proprietary blend 293 mg* of: Almond (meal), Rice Bran, Inositol, Lemon Bioflavonoid, Eleuthero (root), Garlic (bulb), Hesperidin, Para Amino Benzoic Acid (PABA), Kelp (plant), Irish Moss (red algae)(plant), Rutin, L-Leucine, L-Valine, L-Phenylalanine, L-Isoleucine, L-Lysine (as hydrochloride), L-Glycine, Chlorophyll, DL-Methionine, L-Threonine, L-Tyrosine, Black Currant Seed Oil, L-Histidine, L-Glutamic Acid.
Other Ingredients :
Silicate, Microcrystalline Cellulose, Vegetable Stearic Acid, Vegetable Stearine
Contraindications :
Use caution in pregnancy (prenatal vitamins are available). Vitamin A in doses over 10,000 i.u. should not be consumed by women who are pregnant or who are capable of becoming pregnant. Even though there are conflicting studies on the possibility of Vitamin A in large doses causing birth defects, we feel it is better to be cautious. High dosages of vitamin C (>1000 mg.) should not be taken by gout patients or by kidney stone formers. Vitamin C is contraindicated in iron overload disease. Vitamin D is fat-soluble but not toxic in doses less than 2400 IU/day. Hyperparathyroidism or sarcoidosis patients should avoid vitamin D supplementation. Do not use in PKU (contains phenylalanine).
Suggested Dosage :

1 tablet daily or as directed

Vegetarian or Vegan :

No

Gluten Free :

Yes

Allergens :

Contains Fish (cod), Treenuts

Professional Notes :

---

Patient Instructions :

---
Presented by Nutri-West as an Educational Service
Copyright Nutri-West, Inc. All rights reserved.
Made with pride in Wyoming
where business is still done on a handshake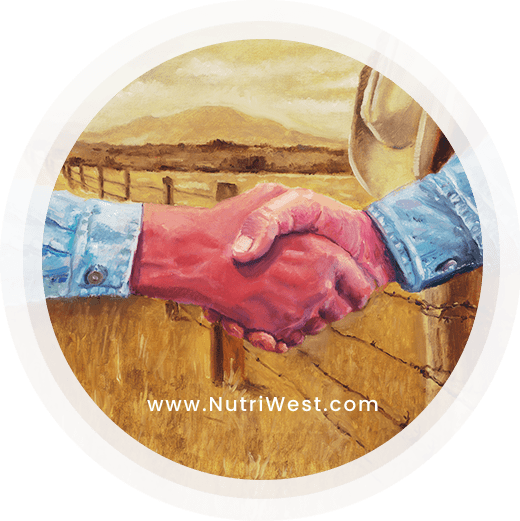 Our dedication to you, the health care provider, is absolute. You deserve our personal best in service and support